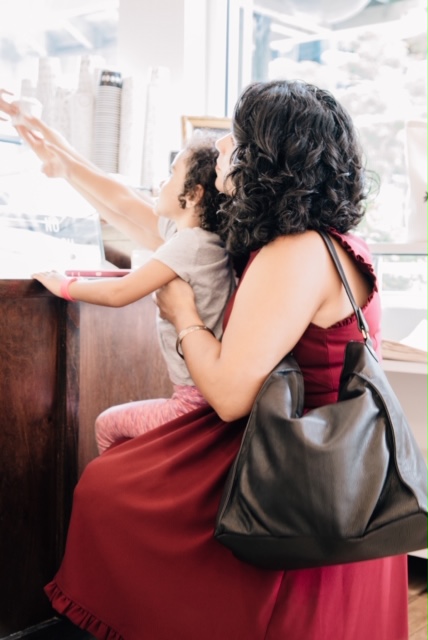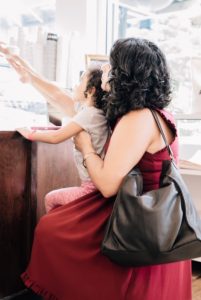 Motherhood is a cherished subject here with the Arayla girls at our L.A. office as most of us wear the "mama" title proudly. It's a beautiful thing to have other moms who just get it when it comes to the multitasking, oftentimes overwhelming, yet pure joy of having little ones. We know that those first thing in the morning and mid-afternoon lattes, with their lovely boost of caffeine that keeps us going on days that previously saw a sleepless night with a sick child or helping one who was up late studying for that big test or perfecting that important project, are life. We also know that a little bright (and natural green beauty of course) lipstick goes a long way (hello Bite Beauty and Ilia!) in making us feel put together (and let's be honest, it also helps detract from the bags under our eyes!), Opcon-A eye drops do wonders for bleary eyes, a well-cut vintage blazer can instantly smarten up cute sneakers (sometimes Golden Goose, sometimes Nike Air Force 1) and our favorite J Brand jeans with a butter-soft leather Arayla bag pull us together in the most comfortable and stylish way.
Of course, we all have our favorite multi-tasking Arayla bags for our school-age children (how often our Hepburns have held school projects, an extra set of wireless Beats, some random mini bags of Sahale snacks and GoMarcro bars), but what about our mamas to be and those with precious little newborns and toddlers? While it seems like a lifetime ago for some of us, others are either going through this stage currently or have just outgrown it. The majority of our very best and most favorite finds have come by way of suggestions from our own girl tribes of talented and successful friends, so we thought…why not pass a few of these along? Not everyone is prepared to leave their favorite leather satchel for that Petunia Picklebottom or Jujube (super cute as these may be, we have all had at least one!) diaper bag and many of us want something that can transition for work or activities without baby, that is easy to clean, gets better with wear, and is made here in the United States. Presenting, the mama and baby bags we couldn't live without!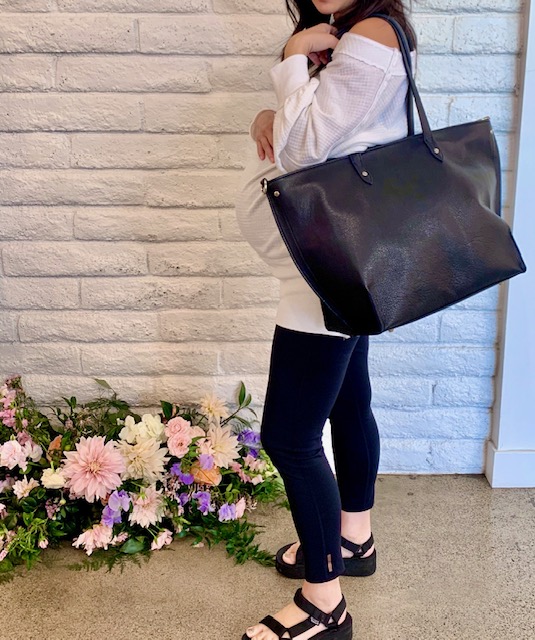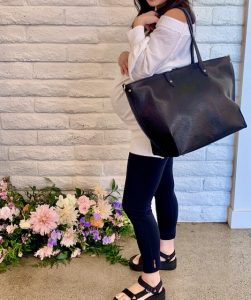 Our first mama and baby bag might seem like a no brainer with its excellent capacity to expand and of course that sunnies pocket that can hold a bottle (very well sealed of course). Add to it super comfortable shoulder straps and a dreamy adjustable messenger strap all in full-grain leather and you have a diaper bag/work tote/overnighter/travel bag that just gets more lovely with use. Our Grande Hepburn has serious dimensions if you'd like to substitute it for a piece of luxurious leather luggage, but it also drapes in the most stunning fashion that shows off the buttery texture and natural beauty of a full-grain, nearly naked, premium leather hide. Toss in a few diapers, a wipes container, an extra set of clothes, that Aden and Anais swaddle or Little Giraffe lovey along with your wallet, keys, phone, and makeup bag, and you are good to go. Did sticky little hands get ahold of the lining while digging about for a toy? No worries at all. A little spot cleaning and a quick dry will keep the lining as gorgeous as ever and a little leather cream on the outside of the bag will keep it beautiful too. Are you model tall or delicately petite? The Grande Hepburn provides a stylish look and great comfort for all. Our mama to be in the photos is tiny but she carries the oversized bag (and oversized sunnies actually) look super well. Our beautiful model tall Mia is also a fan of the Grande Hepburn (saying that it supplied all of her wishes for and fixed the disappointments and discomfort of her now neglected LV Neverfull GM). Worn crossbody or on the shoulder, the Grande Hepburn is the bag you will take from mama to be, to the fleeting and oh so precious newborn and toddler days, to the perfect work tote, to weekend shopping trips and picnics in the park, to travel adventures abroad and closer to home in your own amazing locale.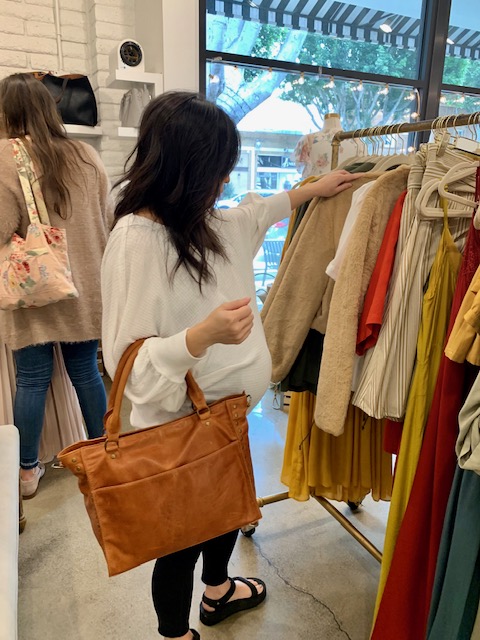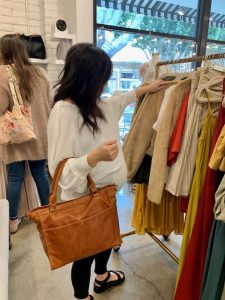 But what if you prefer something with a tad more visual detail? The Arayla Jett satchel is a stunning take on a mid-size leather satchel (complete with that incredible sunglasses/bottle pocket) with all of the great features of our Hepburn line. Those edgy yet luxurious studs give it a dash of glam and the front pocket makes it so convenient to easily access a phone or that spare pacifier. Take Jett from the office worn on the elbow and decked out in a tailored shift and heels, to a casual day with joggers and a fitted tank or jeans and a well-cut linen top with Jett slung comfortably on the shoulder or crossbody as you leisurely push along your Uppababy. Jett truly is one of our absolute favorite bags to take from work to play, from mama life to beyond.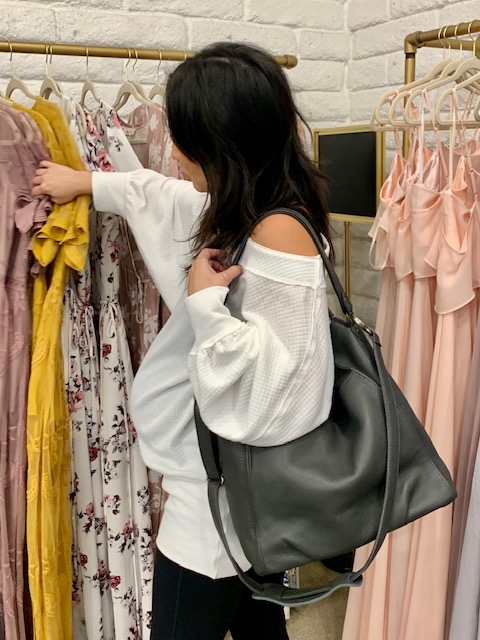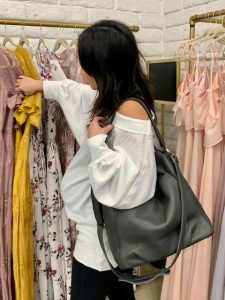 Not much of a tote or satchel girl, but craving a shoulder bag that puts the focus on slouchy, yummy, buttery leather? The Harlow (both Classic and the incredible Market version) is the mama and baby bag beauty for you. Our best selling handbag for good reason, Harlow is truly perfection in a hobo. The carefully crafted drape gives the Harlow hobo a beautiful silhouette worn on the shoulder and a wonderful soft shape as a messenger hobo. The dimensions are ideal, it can fit several diapers, a wipes container, a couple of swaddles, a change of clothing, and assorted baby/toddler essentials along with the usual must-haves for mama. Being constantly on the go and needing to schlep around a fair amount calls for a featherlight bag that hugs the body beautifully. The Harlow Market is a favorite of the Arayla girls for this very reason. While not all of our girls have a need for a mama baby bag combo these days, we all own a Harlow Market because it is just that versatile, comfortable, and so effortlessly cool. On your own without the little ones? Both the Classic and Market versions accommodate most laptops if needed, look amazing nearly empty for the minimalist who requires just a few essentials, and can double as an overnighter for most. Buttery soft, drapey, full-grain leather…the Harlow bags really do it best!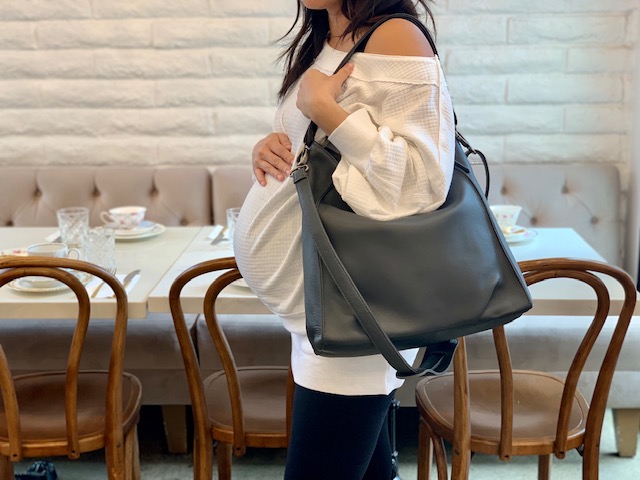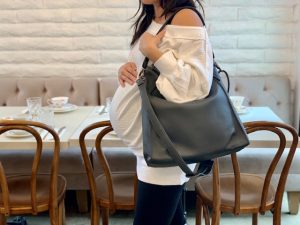 As a women-owned brand with modern girls who design for modern girls, the Arayla line truly is the perfect companion for every stage of life. From premium full-grain leathers and stunning yet easy to clean linings, comfortable shapes, thoughtful and highly functional details that women are always looking for in a bag, and just the right amount of stylish detail to stand out yet outlast passing trends, our artisan-crafted handbags made entirely in L.A. will be your most loved bag from single girl to married girl adventures to mamahood and beyond! xx