I'm a strong believer in "you are what you wear" and I find that the simplest things can make a huge difference to your inner confidence, levels of energy, and overall positivity. I also think that accessories can say a lot about you … and tell you a lot about yourself.
I've always been drawn to sapphire. Astrologers will tell you that blue sapphire removes negativity and unknown fears. The color supposedly blesses the wearer with fame and fortune. I'm still waiting for the latter to kick in but I can honestly say that wearing sapphire brings me peace, self-confidence, and mental balance. I find the deep dark hue so alluring and enchanting, it's like carrying the mystery and secrets of the ocean. Dark colours can sometimes be shadowy but sapphire is bold and stands proud, with a shimmer that adds a touch of subtle royal elegance.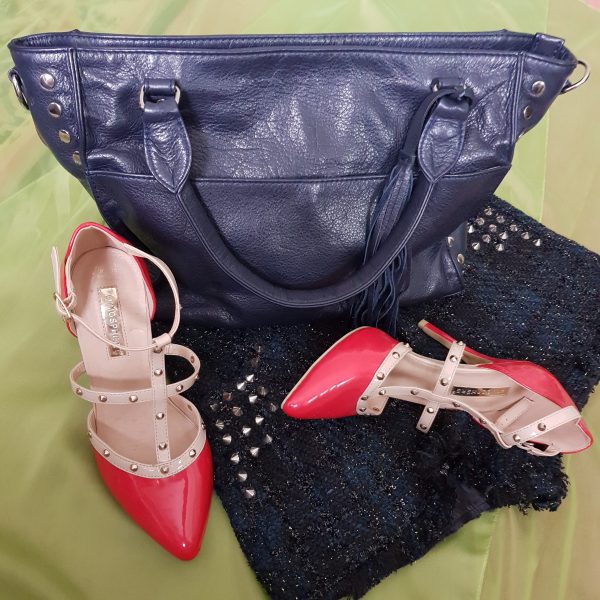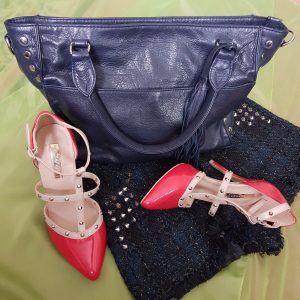 I'm also a rock chick at heart. Not the one on stage playing to the crowd or messing up hotel rooms. I'm the one in the wings dancing away where nobody can see. Which is why I absolutely LOVE handbags that shine with glimmering studs. Not too many that the handbag looks like it has developed some sort of metallic disease or that it could cause a serious injury … but perfectly placed studs that pop and glisten under both sunlight and moonlight.
So it'll be no surprise that my favourite Arayla handbag is the Jett Satchel in Sapphire. To all our lovely customers who own an Arayla in butter leather – have you ever felt anything so soft??! I'm addicted to stroking this bag, it's so silky and smooth that I've often had a strange urge to bite a big chunk out of it (I think it would have the texture of a gooey biscuit). Yes, I know I'm strange.
On a more practical level, I would never buy a handbag unless it was full of pockets. I carry my life in my handbag and they both need organising. I really struggle with the 'throwing it all in' concept and then spending hours rummaging around. Yes, I'm also the one who folds the end of the sellotape to save me from searching for the invisible end next time (probably explains a lot). So, the Jett Satchel is perfect with all its slip and zipper pockets that give me a sense of orderly balance.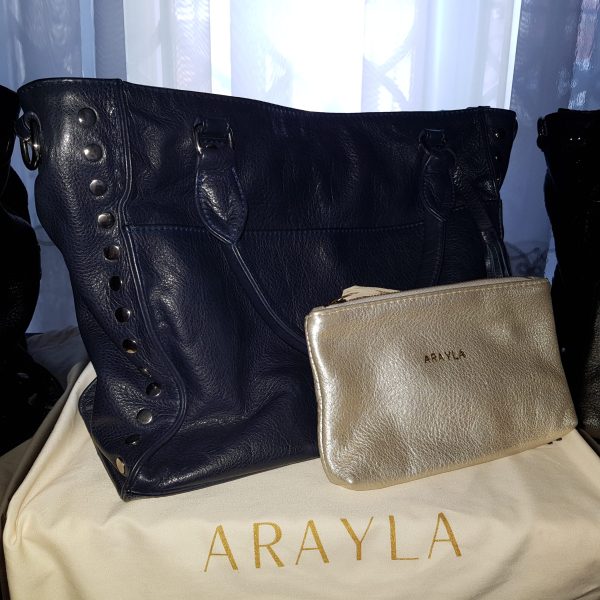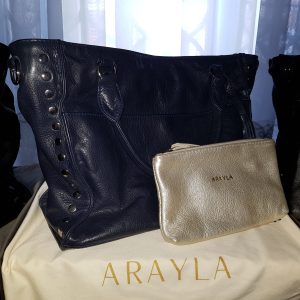 On an even more practical level, I'm very fussy about the handles of my handbag. The perfect handbag should be able to be carried with ease by hand, rest comfortably on the forearm or the crook of the arm, or be hands-free… and this bag does it all without leaving horrid (and painful) strap marks. Much thought went into the design and manufacturing of this stunning yet comfortable handbag and it really shows.
One final thing … many handbag manufacturers focus on the outside and often neglect the inside. A great brand focuses on the quality of both and I have to give a huge shout-out to our linings team. The linings fabric is sturdy, protective, divine and adds a touch of inner glamour that I've rarely seen with other luxury brands. As a result, the Jett Satchel is as beautiful inside as it is on the outside … and that's why this handbag is my absolute favourite.
If sapphire isn't your colour, the Jett Satchel also comes in onyx (pebbled luxe) and whisky (butter leather) … but whichever colour you choose, in my view, the Jett Satchel is the only handbag for those who want "silky-soft-rock 'n' roll edgy-orderly-glamour". Perfect also for sellotape obsessives.
Faye x