Is it warm, summer weather yet where you are? In most parts of Hawaii, it is generally pretty warm with beautiful sunshine year-round. Bright blue skies, coconut trees swaying in the breeze, golden sands hiding gorgeous shells and sea glass, and the crystal clear, refreshing waters of the beaches in Hawaii are the favorite playgrounds for many. In lieu of a proper vacation at the moment under the stay home orders, we invite you to a couple of our favorite beaches on Oahu and the Big Island of Hawaii.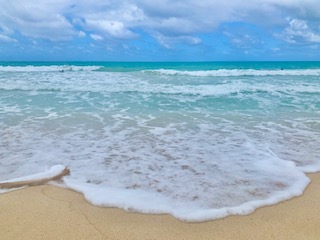 The beaches in Hawaii are filled with natural beauty that everyone can discover and that beauty is truly inspiring when it comes to designing handbags.
When people think of Hawaii beaches, the iconic sands of Waikiki, maybe Poipu on Kauai, Kaanapali, or Makena on Maui, or Hapuna on the Big Island come to mind. While these do have reason for their popularity (you'll often find us at a mellow surf spot in Waikiki), we locals have a few under the radar favorites that tend to be a lot less crowded yet stunning in their beauty.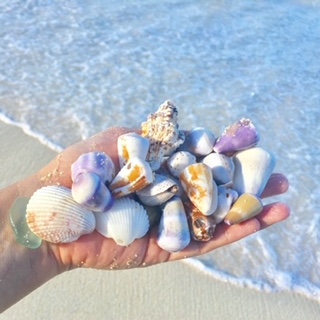 Favorite Beaches in Hawaii
Without giving up too many of our secret spots, one of our well-loved favorites is the gorgeous Halona Cove or what we know as Cockroach Bay/Cove (we don't even want to think about how it got that name!) on the island of Oahu. Unless you are peering down at the coast while out for a drive on the east side of the island, taking the "ocean" way, you may totally miss it.
Most will flock to nearby Hanauma Bay (great snorkeling spot with nice sand and beautiful calm water in the shallow areas) or gaze out at Sandy's next door (legendary for its powerful shore break), our preference is The Cove. What it may not have the parking lot, bathrooms, or other amenities that other beaches have, it makes up for in stunning scenery, a fun ledge to dive off into the water, the occasional sea turtle swimming up alongside you, and a quieter yet incredibly picturesque spot to enjoy soaking up the sunshine with family and friends.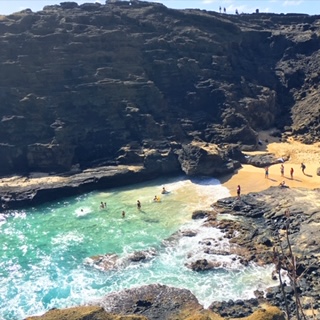 Sling a beach chair (we couldn't imagine life without our Kelsyus convertible canopy chair!) on one shoulder, your beach bag (our go-to is either our Harlow Market or Grande Hepburn-both in butter leather) and mini cooler on the other, and carefully navigate your way down the rocky hike to the sand.
Bring a bodyboard if you have a free hand, the shore break makes for a fun ride mellow enough even for the little ones (or keiki in Hawaiian). Perhaps it looks a bit familiar somehow? Halona Cove was the backdrop to a couple of movies you may have heard of, From Here to Eternity and Pirates of the Caribbean.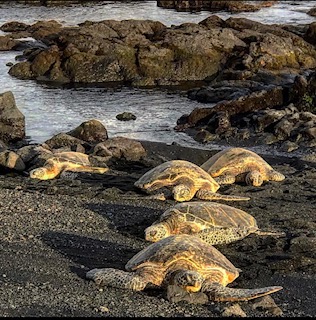 Black Sands
While we really love a white or golden sand beach (even sand types vary per beach which makes for endless exploring), the black sand beach of Punaluu on the Big Island of Hawaii has a special place in our heart. It is difficult to explain the vast beauty of this beach, you really do need to see it in person.
While it is quite a drive from the main towns of Kona or Hilo (or the stretch of hotels out in Waikoloa), it is well worth the time and effort that it takes to spend a day here. Once you arrive, it will be difficult to know where to look. The sunbathing honu or sea turtles are a mesmerizing sight, especially as they are usually clustered together in groups.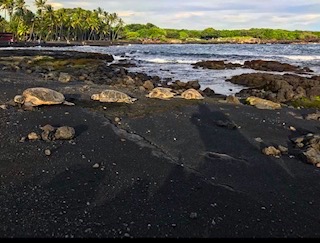 Stay and observe them for a while until the bright blue skies and cool green fronds of the coconut trees lining the beach catch your eye. Against the contrasting backdrop of onyx colored sand and the inviting Pacific waters, a stunning memory by way of a photograph is created.
Delight in the underground freshwater springs that meld with the warmer ocean waters to create a refreshing yet unexpectedly chilly sensation. On the way out, don't forget to stop and admire the peaceful lily ponds, completing a truly serene, truly breathtaking day.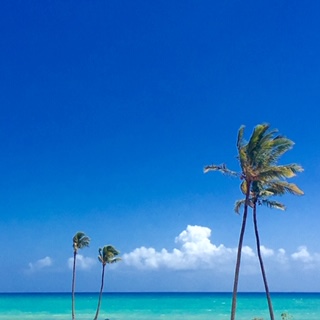 Nature is Back
Amidst a strange new world of stay at home orders, social distancing, and self-quarantining, we still have so much natural exquisiteness all around us to be thankful for. Perhaps slowing it down has helped to heal our earth a little, provided a bit of respite for animal life, and helped us to count our blessings while discovering a new sense of awe for the beauty in our own backyards.