Let us whisk you away on a tropical getaway! Close your eyes for a moment and imagine a beautiful day. The sunshine is warm on your skin, the soothing sound of the waves lap gently on the shore. Sea turtles, maybe a monk seal, and the most colorful fish swim and play in the crystal clear water. Who knows? You may even find mermaids in the water. That is how perfectly refreshing the water can be. Coconut trees sway lazily in the cool sea breeze…You are essentially on the secret beach in the photo above. Welcome to the second half of our inspiration for our spring and summer collection.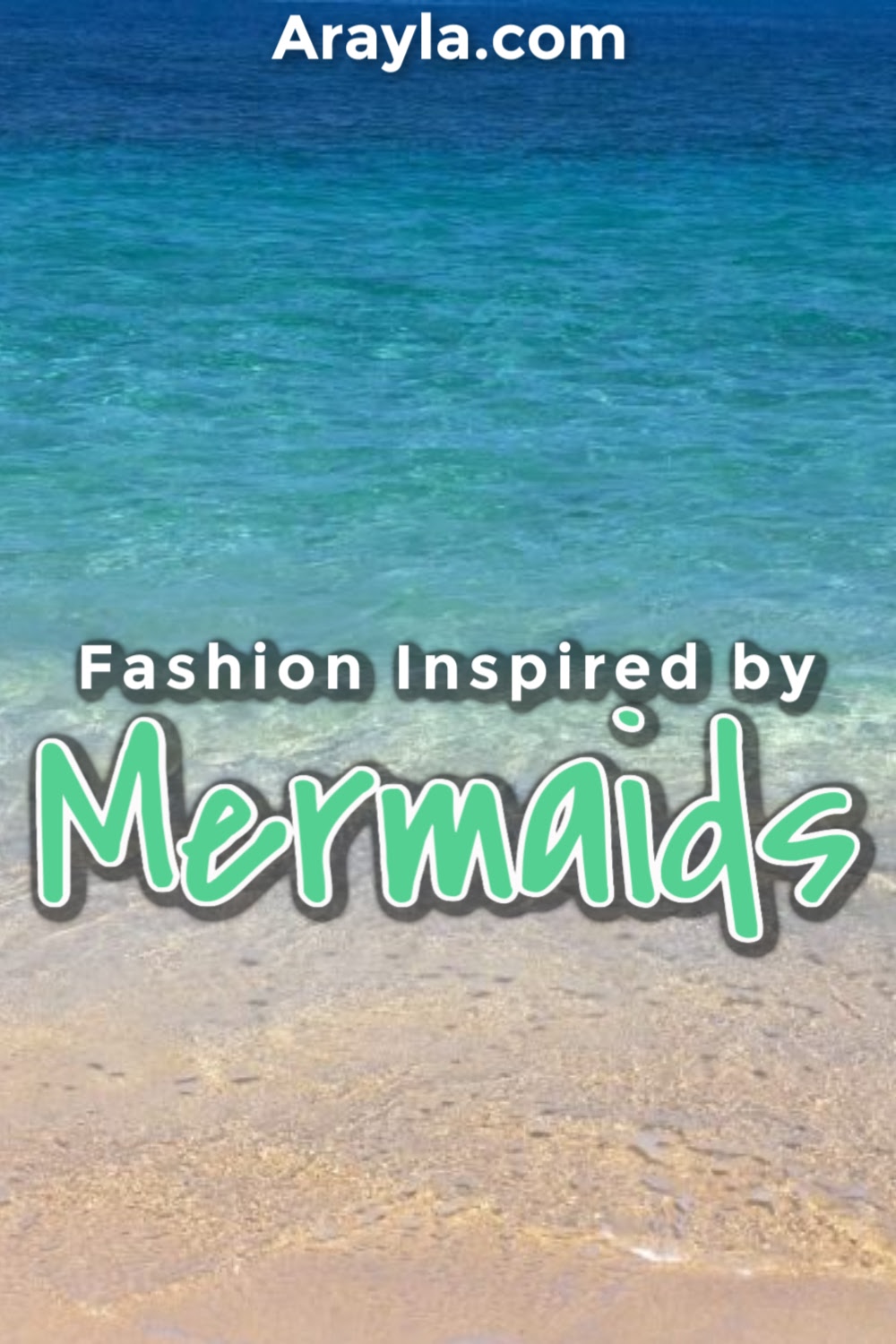 Mermaids were part of the inspiration behind the latest spring and summer collections that you can use to get in the tropical spirit wherever you may be.
Continuing with the stingray embossed leathers, we next searched for the perfect shade of blue. Blue shades permeate so much of everyday life on a tropical island. Bright blue skies are complemented by varying shades of ocean blues, from aquamarine to seafoam to dark cool blues. Often, while looking at the ocean towards the horizon, you see several shades in a bit of an ombre effect. As we perused various possibilities, a stunning hide of dark blue stingray embossed leather caught our eye. It seemed very tropical, something mermaids would use and it was love at first sight.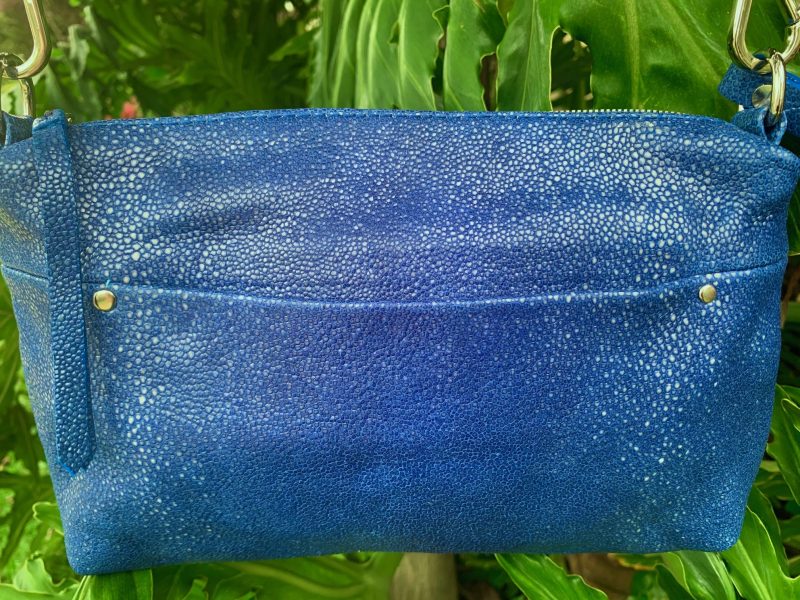 Tropical Blues
This blue was a classic blue, true and deep without being too dark. The stingray texture added dimension so that when the light danced upon its surface, it hinted at a shimmery effect. This blue was beyond perfect. It was versatile for everyday wear, but that stingray embossed texture made it stand out as something really unique and special. One of the highlights of an artisan handcrafting bags in tiny batches with a product of nature like leather means that no two bags are exactly alike.
Each one is genuinely a one of a kind work of art, uniquely yours. Why the name Ehukai Blue? Ehukai is the name of a famous surfing beach up on the north shore of Oahu, widely known as the Banzai Pipeline. In the wintertime, it is renowned for its thunderously huge yet magnificently beautiful waves. This deep shade of blue reminded us of the color of the sparkling water that crests into one of the massive waves on an overcast winter day at this beach in Hawaii. Ehukai blue pays tribute to a lifelong love of the ocean and the north shore of Oahu.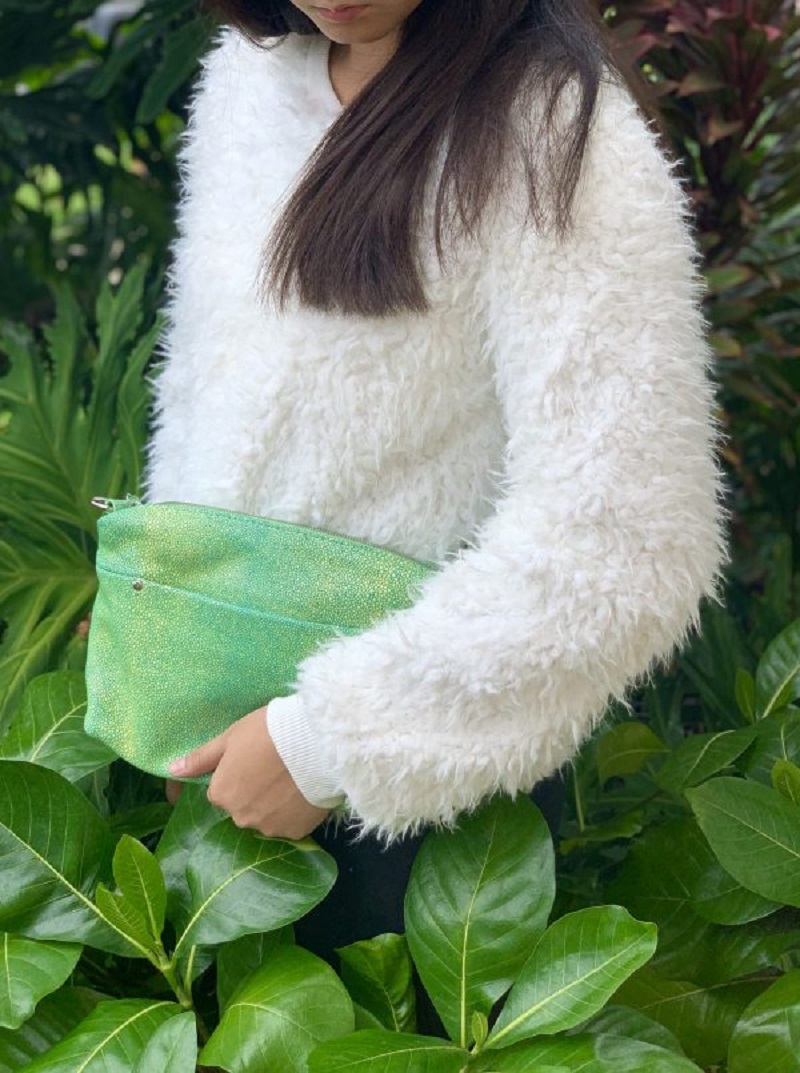 Mermaids Sea Green
Our next colorway popped out at us immediately as we sourced the perfect leather hides for Arayla's spring and summer collection. A true stunner and rare jewel of color, this sea green enhanced with yellow had us examining it both in natural daylight and indoor light. Was it green, greenish-yellow, an iridescent green? As we moved the leather skin to and fro in various types of lighting, we kept thinking of how much it reminded us of a shimmering mermaid hue. A predominantly fresh green that popped with hints of pineapple yellow and depending on how the light caught it, a whisper of green-tinged iridescence.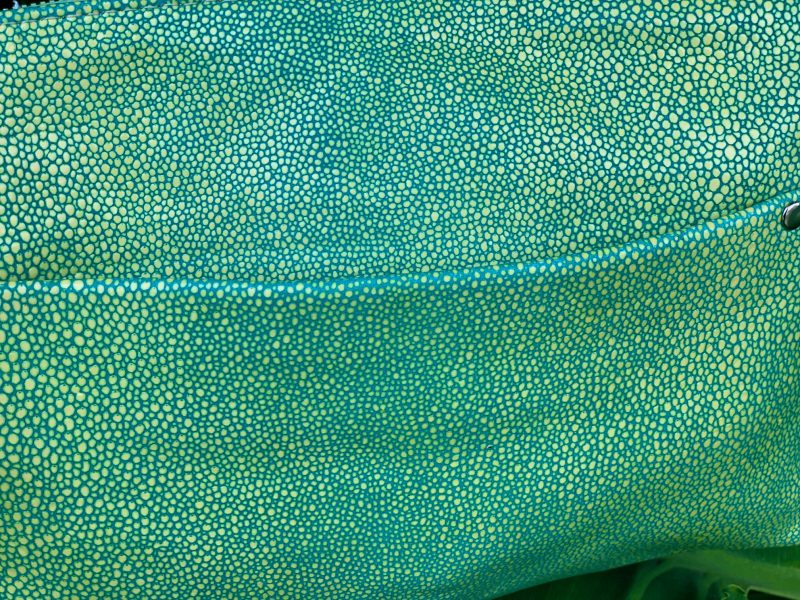 The stingray embossing gave it incredible visual interest and texture, making for the perfect tropical-inspired leather to add to the spring and summer collection. Again it was love at first sight as our team was filled with excitement over how this new mermaid stingray embossed leather would create the most stunning bags for our clients, unique works of art in handbag form, that would make them feel polished, stylish, and pampered with luxury.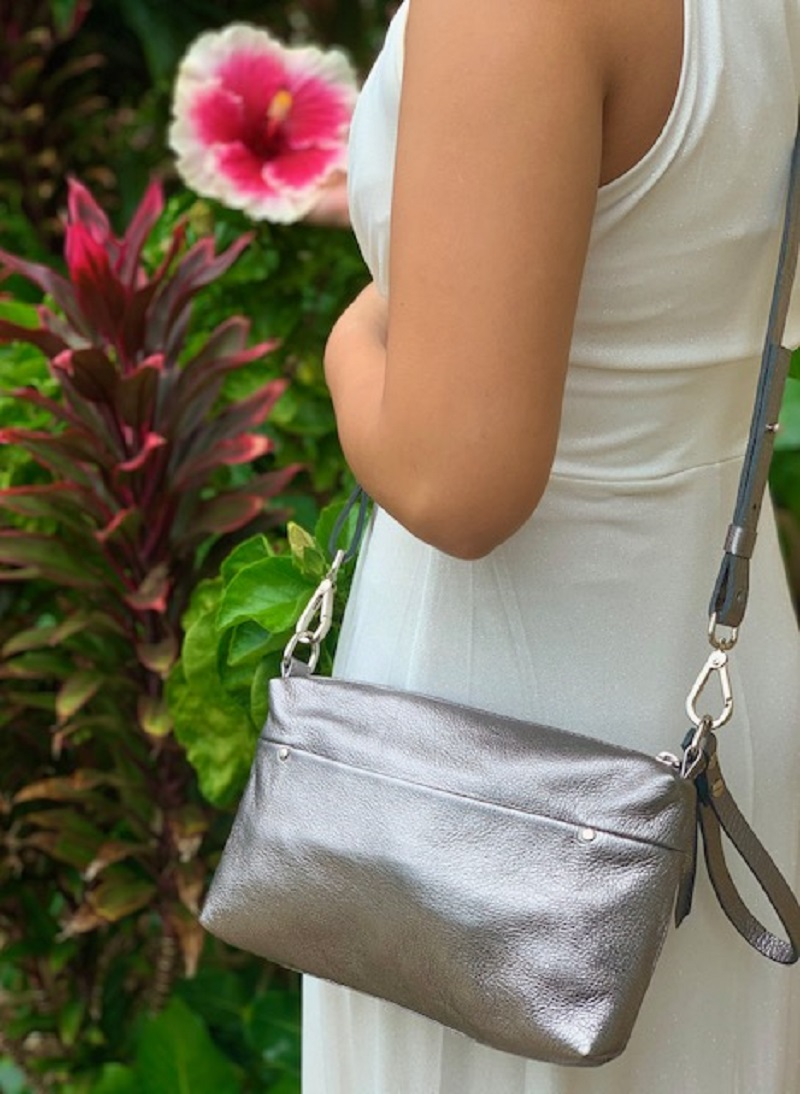 Embossed Leathers
Along with some gorgeous hides of pewter leather, these stingray embossed leathers were hand-cut and handcrafted into Manhattan bags. Why the Manhattan? We chose this style for these leathers particularly because their drape, weight, and durability were ideal for the Manhattan style. The stingray embossed leathers are both arresting in its beauty and at the upper end of the luxury leathers, which led our designers to thoughtfully pair them with a smaller yet extremely versatile day to night style of bag that would be accessible in price and suitable for everyday wear for many.
The Manhattan is a shining jewel of the Arayla bag collection both for its modest price point and its lightweight, effortless style. It is a chic bag for all seasons and all affairs of life. Both our American and our British Arayla girls love it as a small daily dose of beauty.
Mermaids and waves have shimmery colors. The stingray embossed leathers, the multifaceted Manhattan bag…these are just a few of our favorite things for SS20 and beyond!
With love,
The Arayla creative girls xx