HEELS AND HANDBAGS go together like… One of the oldest and most famous pairings in modern society as we know it. Up there with: Salt and Pepper, Peaches and Cream, Fish and Chips (for us London folk), Peanut Butter and Jelly (for the US folk) and Macaroni and Cheese (for all of us).
We love a bit of creative banter in the Arayla London office and when the subject arose of "what would you always match with your handbag (apart from shoes)"…it was 'Handbags at Dawn' (which is a British phrase for a catty squabble). Frankly, I'm not sure it really matters…but apparently it REALLY DOES.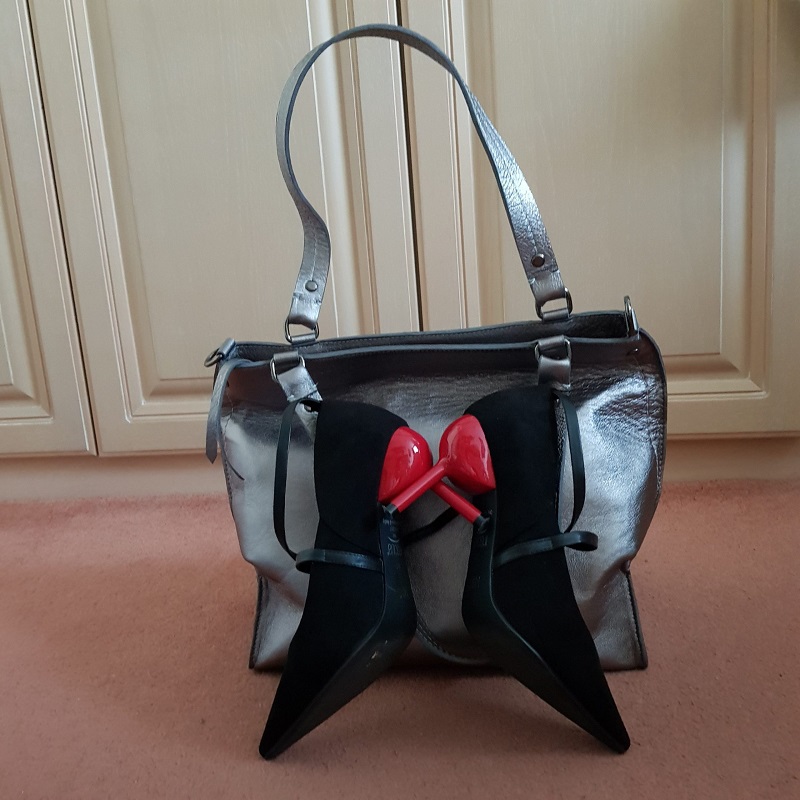 So, here's the collective list:
Scarf or Shawl: Wrapped around you or even wrapped around your Handbag. Bella does this with her Hepburn in Havana handles.
Gloves: Hand. Bag. Obviously. Bella's favorite accessory.
Hat: Lead from the top. Usually Black. Yes, Bella again.
Hair Bands Go Together
Really, Sophie? Yes, we've just noticed that she does color match her hair accessories with her Handbag. Today she's rocking deep blue scrunchies with her Earhart in Marine Butter. Now that's serious coordination.
Tights (British) / Pantyhose (US)
Particularly for the bags that hang by the legs. Super stylish and one of Sophie's obsessions. She also has lovely legs.
Nail Polish (fingers and toes)
Seriously, now we're talking. Faye does this really well with beautiful sunny yellow nails (perfectly manicured / pedicured) and her Manhattan in Pineapple Stingray.
Lipstick and Eyeshadow
Ah, yes, another of Faye's favorites. The mahogany eye shadow and burgundy lipstick matched with her Harlow in Bordeaux. It's a stunningly sultry look.
Hair Color
Now, Faye did this once…to match her Austen in Rose Quartz. Although to be fair her favorite color is pink, so it wasn't just to match the Handbag. It took us months to admit it didn't look quite right…more a rotting peach than a vibrant pink.
Jewelry
We all love a bit of sparkle and we're all obsessed with hand jewelry complementing our gorgeous Arayla Handbags.
And our favorite pick of all the things nominated? Underwear. Yes ladies, those undergarments need to be practical, stylish, and now fully color coordinated with your Handbag. Has anyone ever done this? No idea. But how fabulous. Move out the way ladies, my Petite Harlow in Aubergine is calling for some coordination.
Matching Heels? How very last season …