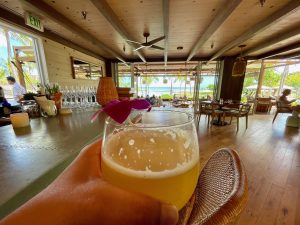 Do you love a good happy hour? If so, you're in the right place! Happy hour is an enjoyable way to relax at the end of a workday (pau hana time as we locals say) or as a leisure weekend pastime. Grab your favorite Arayla leather bag and join us for some Hawaii happy hour!
There are many great happy hour spots on Oahu, with Waikiki as the home for many. One of our favorites though is tucked away in the KoOlina resort. KoOlina, or Place of Joy, is on the west side of the island of Oahu. While a bit of a drive from Honolulu (don't try it during the work week-traffic going west is the worst!), it is so worth the effort with the blindingly beautiful scenery once you arrive. Lush greenery, a waterfall feature with fancy black swans as you drive past the guard, KoOlina whisks you away on an instant vacation. Pristine beaches on your right with oceanfront resorts, various restaurants, and Oahu boutiques on the left, always cause us to sigh with delight as we pull up to the valet of the Four Seasons at KoOlina.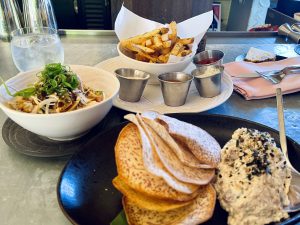 Why the Four Seasons KoOlina? It's our under-the-radar, favorite spot for delicious cocktails and delectable bites at their afternoon happy hour down at Mina's Fish House, complete with stunning ocean views. What to order? We suggest the Plan On Staying Iced Tea (so smooth and refreshing with its allure of a traditional plantation iced tea) or the Zona Rosa (hints of lilikoi or passion fruit with a splash of Prosecco and tequila served straight up) to start. The poke bowl features delicate bites of seasoned fresh raw fish over rice while the chilled shrimp tower offers a delicious take on classic shrimp cocktail. Duck fat fries are a signature of the Michael Mina restaurant line and are accompanied by a choice of dipping sauces. Not to be forgotten are the fish favorites (this is a fish house after all!) of a creamy dip with fresh taro chips and a well-loved fish and chips. One of our must-haves every time? The yummy Brussel sprouts are perfectly charred with a dash of lime and coconut sugar.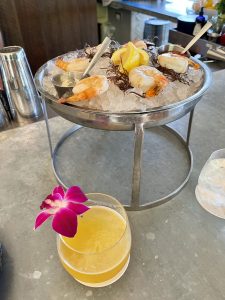 Hungry (or thirsty) yet? Mina's Fish House is an Oahu happy hour must, one of the best happy hours in Hawaii if you ask us! You'll regularly see us there at the bar chatting with one of the lovely bartenders with our made in Hawaii leather bag, the Pikake in our sun-kissed macadamia colorway, held as a chic day clutch or worn across the body with her lovely adjustable tie strap. Or maybe it's one of the days that we choose an open-air table out on the patio, allowing us to gaze out at the ocean and bask in its serenity. Our made in Hawaii leather bag, the Melia style in monstera green at our side of course, with her soft shape and luxurious leather providing the perfect style for a leisurely afternoon at a very happy hour Hawaii style.
Happy happy hour ! x The Arayla girls